-He Comes Alongside To Help
---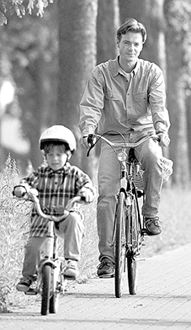 Bike riding is a great form
of exercise as well as a refreshing break from my daily routine. Years ago I was blessed with a Raleigh, 24-speed mountain bike. Since then, I've ridden thousands of miles – enough to cross the USA, if I'd set out to ride from coast to coast.
One of my most memorable rides occurred along "Rails to Trails" – an 11-mile hiking/biking path on an old railroad bed that followed the Juniata River through the forest from Williamsburg to Alexandria, Pennsylvania. My sons and I decided to accept the challenge of that trail.
Seven-year-old Timothy was riding a single speed 20-inch kid's bike. Eleven-year-old Andrew rode my wife's old ten-speed. I was on my high-tech bike. We left early to make a day of it, taking food, drink, Bibles and binoculars. We wore clothes that would allow us to also swim in the river.
What a delightful day! We rode awhile, played awhile, rode awhile, ate awhile, rode awhile, swam awhile, rode awhile. We covered the entire trail, and then started back. I was amazed at how well the boys were holding up, especially Timothy on his one-speed. He had to peddle much faster and harder than I did. But the snacks and swims seemed to re-energize him.
We had finished 18 of the 22 miles when I sensed that the needle on Tim's energy gauge had hit empty. He slowed down, and occasionally stopped. His enthusiasm was gone and he began to complain. Andrew would ride on ahead and then come back. I had to keep slowing down and waiting. Four miles now seemed like forty. The snacks no longer helped.
With Tim almost at the point of tears, I had an idea. I rode beside him and took hold of his arm. With very little effort, I adjusted my gears and began to accelerate. We picked up speed and soon were moving down the trail at our normal speed. We talked and laughed, and really had some of the best fun of the day. When we came to the last mile, Timothy decided to finish on his own. That day will forever be stored in my mental archives.
That ride reminded me of a great Bible truth that Jesus taught. In John's gospel, He introduced His disciples to the Holy Spirit who would come in the form of the Helper. "But the Helper, the Holy Spirit, whom the Father will send in My name, He will teach you all things, and bring to your remembrance all things that I said to you" (Jn. 14:26 NKJV).
The disciples assumed Jesus would always be with them, but He shocked them by telling them He would go away. "I tell you the truth. It is to your advantage that I go away.; for if I do not go away, the Helper will not come to you; but if I depart, I will send Him to you" (Jn. 16:7). He explained, however, that the Holy Spirit would come as "one called alongside to help," which is the meaning of parakletos, the Greek word for the Holy Spirit. In their weakness, He would be their strength In their insufficiency, He would be their sufficiency.
Timothy could not keep up on our ride that day. The disciples could not keep up in their day. I cannot keep up either. That is why I am so thankful that God provided someone who can come alongside to empower and strengthen me in my need. The Holy Spirit is one of God's greatest blessings to enable us to finish the ride.
By Tom Palmer
"But when the Helper comes, whom I shall send to you from the Father, the Spirit of truth who proceeds from the Father, He will testify of Me." John 15:26
With permission to publish by: Sam Hadley, Grace & Truth, 210 Chestnut St., Danville, IL., USA.
Website: www.gtpress.org